Exercise Game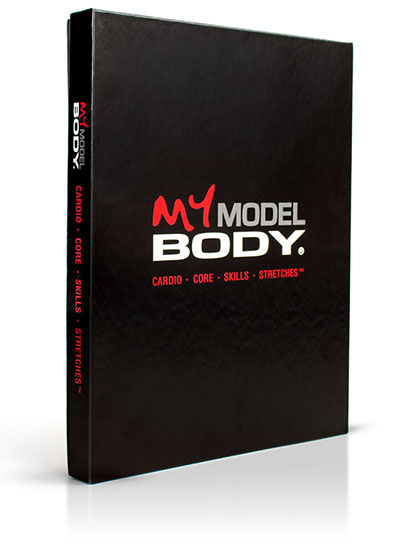 The MY MODEL BODY® Exercise Game is helping to define what a "model body" really is. It's about guidance and encouragement to get your best body. A body that empowers you when looking and feeling unstoppable! Because when you feel physically strong, you are mentally strong. The game consists of 3" x 4¼" exercise cards with motivational messages that can be played individually or with others. A 20-week progression plan that will challenge your conditioning and athletic ability no matter what your age, gender, height, weight or physical capabilities may be. The game cards are divided into four categories: Cardio, Core, Skills and Stretches. There are twenty different exercises in each group ranging in time from 15, 30, 45 and 60 seconds. In total, 80 different exercises and motivational messages that will help build your confidence, advance your fitness level and keep you inspired.
Aside from the four categories of exercise cards, the MY MODEL BODY® Exercise Game will provide you with a Game Overview booklet. This comprehensive booklet comes with step-by-step instructions and four posters demonstrating proper form. It also includes a QUICK PLAY, PROGRESSION PLAN, ADVANCED OPTION, HEALTH REVIEW, BODY COMPOSITION, WORKOUT LOG, INTENSITY LEVELS and WORKOUT CALENDAR. The booklet even has a CARDIORESPIRATORY EFFICIENCY TEST and GAME TIME TEST. Both physical training tests will be sure to challenge your mind and body.
The MY MODEL BODY® Exercise Game takes all the guesswork out of fitness. Each card has a specific exercise to perform with a time limit, so the hard part of thinking what to do and for how long is already done for you. It's about using your own bodyweight to help build your muscular strength, cardiovascular endurance and flexibility. There is absolutely nothing else you need to buy. No bulky exercise machines or expensive gadgets, just the portable game and a clock to keep time. For your convenience, Jeff has developed the MY MODEL BODY® Timer application for Apple and Samsung mobile devices. It's a FREE download to help motivate you to succeed in your wellness goals.
Card Samples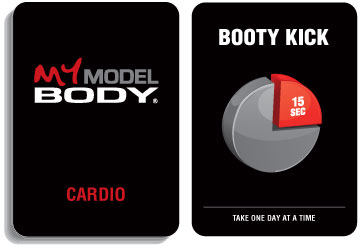 CARDIO: Combining aerobic and anaerobic activities to push your body to the limit in a fun, safe and effective way. These high intensity interval-training methods not only strengthen the heart, they will also burn maximum calories to reduce body fat for peak endurance and fitness performance.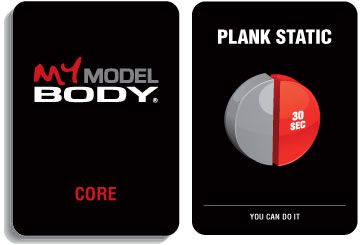 CORE: Consisting of your upper and lower abdominal muscles, along with your side oblique and lower back muscles. The core is where your power comes from so it is important to keep all aspects strong with great mobility. This will lead to an increase in muscular strength and endurance due to overload.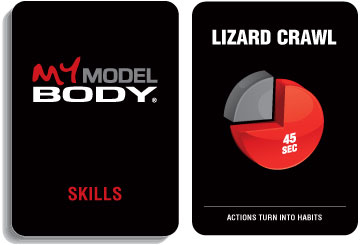 SKILLS: Performing functional movements are vital for maintaining a healthy life, whether it is for a common daily activity or specific sport. The 10 general skills are cardiovascular endurance, stamina, strength, flexibility, speed, power, coordination, agility, balance and accuracy.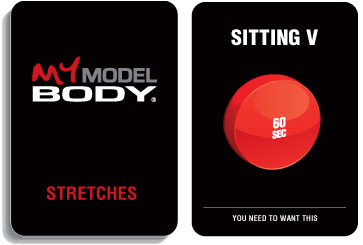 STRETCHES: Incorporating a well-balanced flexibility program is essential. Each workout should have stretching elements included. The movements will help prepare gradual metabolic adaptation, decrease risk of injury, prevent muscle soreness and increase range of motion.